BS in Finance
The Department of Finance offers a Bachelor of Science in Finance and prepares students to actively participate in the finance industry. Not only do students have ample opportunities to interact with finance professionals from the department's many partnerships, but they also have the opportunity to learn in the Market Training Lab, giving them hands-on experience. The program offers a variety of elective courses, allowing students to delve into specific areas of interest, including corporate financial analysis, investments and portfolio management, banking, international finance, trading, and risk management. Our research faculty provides students with innovative educational programs that help students apply new insights to critical business problems.
Requirements, Syllabi and Policies
Featured Courses
FIN 250 Personal Finance
The course addresses the multifaceted task of financial planning, wealth accumulation and management.  Topics include employee benefit programs/different retirement saving accounts, insurance policies, investments vehicles, estate planning, federal income tax, annuities, banking and borrowing.
FIN 494 Commercial Real Estate
The course surveys leading issues related to the analysis of commercial real estate. This course includes topics on special characteristics of real estate markets, the identification and valuation of investment opportunities, mortgage mechanics and calculations, and the secondary mortgage market.
FIN 494 Real Estate Market Analysis
The course is designed to teach students how to analyze real property markets (land, buildings, and improvements) using both theoretical models and applying data. The course develops models that explain why location matters, where market activity takes place, and what factors drive market value. The course also examines how transportation, government policy, schools, and urban problems affect real property markets, with particular attention paid to the residential housing market.
FIN 494 Real Estate Data Analysis
The course provides a set of tools for analyzing real estate data, with an emphasis on housing. The emphasis is on becoming prolific in two major computer software programs, R and Stata. By the end of the course, the student will be able to prepare maps in R, and analyze data in both R and Stata, using statistical tools such as histograms, kernel density functions, and regression analysis.
FIN 494 Real Estate Valuation
The course provides an introduction to the valuation of real estate, with focus on the underlying fundamentals of location value. The three basic approaches to valuation are explored extensively: Comparable Sales, Income, and Cost. Students will also learn the hedonic model approach, a modern data-driven, statistical version of the comparable sales approach.
FIN 494 Energy Finance
The course introduces students to a broad spectrum of finance topics in the context of the energy industry. They include valuation of energy projects with various approaches – from discounted cash flow to real options, as well as energy lending, project financing, energy trading, energy risk management such as hedging, energy risk modeling, and weather derivatives. Both the traditional and the alternative energy sources are analyzed, including crude oil, natural gas, coal, and renewable energy. Examples are drawn from crude oil, natural gas, and electricity markets. Clean energy investments and carbon emission trading are covered as well. The course is focused on lab work where students put theoretical concepts to practice using Excel skills.
FIN 494 Behavioral Finance
The course provides an understanding of the behavioral biases and their effects on financial markets. Behavioral finance argues that some financial phenomena can be better understood admitting that some investors are not fully rational, causing market prices to deviate from fundamental values, while the rational traders have limits to how aggressively they could trade. A number of stock mark anomalies is presented and analyzed, keeping in mind both the behavioral biases and the rational paradigm.
FIN 494 Financial Communication
The learn-by-doing course concentrates mostly on developing strong writing skills, with topics based on economic and financial scenarios. Students will learn how to better research, organize, analyze and summarize material while creating clear, accurate and persuasive communication (papers, slide decks and oral presentations) for a range of audiences.
FIN 494 Emerging Technology
The course familiarizes students with the unique intricacies of the blockchain and its many iterations.  Students will understand how Fortune 500 companies are employing it for security purposes and logistics operations, and how the financial world and economists view cryptocurrencies.  The course will be taught through a combination of readings, lectures, and a final project that challenges class cohorts to identify a problem that the blockchain could solve and design the appropriate solution.
FIN 494 Business Valuation
The course introduces students to fundamental issues in corporate financial decision-making and business valuation, such as capital budgeting, real options, the intersection between business investment and strategy, capital structure, financial distress, and mergers and acquisitions. The emphasis is on practical applications of the theoretically developed tools.
FIN 494 Entrepreneurial Finance
The course follows the life cycle of a startup company: business model evaluation, startup valuation and financing (including angel investors, venture capital, and debt financing), "soft skills" such as putting together the startup team and negotiating with customers and partners, and eventual exits (via an IPO or an acquisition). The course will use a combination of case discussions and lectures.
FIN 494 Alternative Investments
The course covers private equity, hedge funds, real assets, and structured products. It familiarizes students with the fundamental securities/products that are traded in this space, the methods by which these securities are traded, and current issues related to alternative investments.
FIN 494 Financial Modeling, Analysis, and Decision
The course introduces students to the challenges faced by businesses in their day-to-day operations, including investment and financing decisions. The focus of the course is on the key elements of financial modeling and valuation such as cash flow forecasting, applying various valuation methods, appreciating the role of assumptions, and understanding how strategic decisions impact firm value. The course emphasizes cutting-edge Excel modeling skills.
Finance Waitlists
These waitlists are for students who are not majoring in UIC Business, nor minoring in Business Administration or Finance.
At the latest, students will be notified a week before classes start as to whether or not they are able to register for the course.
Summer 2020 Waitlist
Fall 2020 Waitlist
CME Group Foundation Market Training Lab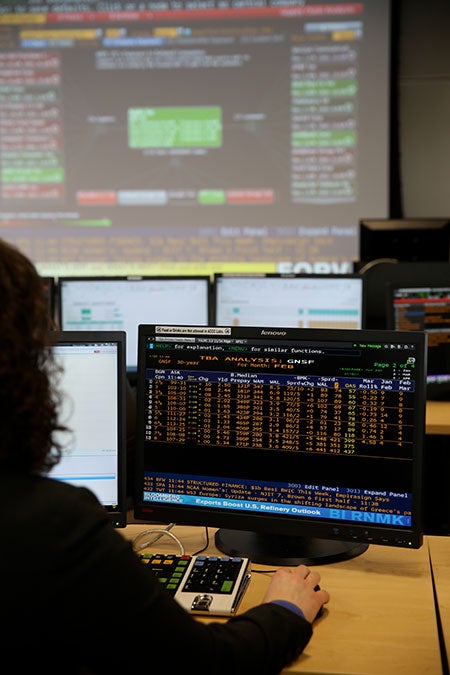 Funded with a grant from the CME Group Foundation, the Market Training Lab provides tools, data and educational services to enhance the learning experience in finance and to better prepare students for skills demanded by the market.
Software in the Lab:
CME Training Lab Tutorials:
Registration: We are currently not requiring students to register for tutorials linked to courses. You are welcome to attend those tutorials even if you are not in the course; however, students from the courses have priority if space is limited. If you would like a class added, please contact John P. Miller, Director of the CME Training Lab.
Resources: Each tutorial has hyperlinks to resources that will be used.  To download the material you will need to login using your NetID and password.
Current offerings: 
​Other resources:​ Students who have no previous programming experience are encouraged to work through the tutorials offered by either DataCamp or R Tutorial.
DataCamp: Introduction to R tutorial. Go to DataCamp, register a free account, then work through the guided tutorial. This is a great resource that allows beginners to become familiar with the R programming language at their own pace. DataCamp also offers tutorials on more advanced topics in R.
R Tutorial: R Introduction tutorial to begin working through the tutorial – no registration required.
An Introduction to R is a detailed tutorial covering many aspects of R. This is a good reference for users that are already familiar with R.
Advising
You can schedule your advising appointment online by going to your my.uic.edu portal, clicking on the "Advising" tab, and then on the iAdvise button. The iAdvise online scheduling tool has the most up to date availability for all advisers.