Welcome! The Business Career Center provides guidance and support to UIC Business students looking for internship opportunities or full-time positions upon graduation.
We help you explore, engage and experience
The UIC Business Career Center is open with all resources available to you, including advising, workshops, job and internship opportunities, career fairs, and more. Our team of experienced career coaches are here to help you learn the skills that you need to find the right business career. We help you translate your classroom experiences to the workplace.
The Business Career Center has switched to Handshake. Handshake is now the Business Career Center's online career resource for business students.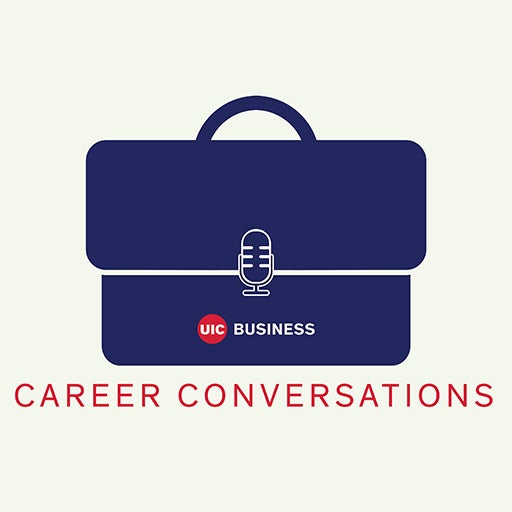 Hear from students, alumni, faculty and staff about their experiences in various fields, exciting new research and how UIC Business can support the student journey to career success.
Listen Now
How do I learn more? Why Business? Where do I start? Who can I speak with?
Before you can figure out where you want to go, it's important to know where you are starting from. Everyone has had experiences which contain clues as to their best career fit. Start by exploring your career options and assessing your interests. We can help you explore.
Career Exploration Guide

As a student, exploring careers can help you make better informed decisions when selecting an academic major, applying for internships, and crafting your overall academic experience.

Focus2Career Assessment

Analyze how your interests, skills and personality fit within certain occupations. Email BCC@uic.edu for access.

Alumni 4U

Group-style informational interviews where you can talk with an alum about their career path, current position and more.

Career Exploration and Overview Workshop

For students who would like to learn more about the different business majors and how they connect with different career paths/interests. Additionally, you can gain insight on the tools and resources that the Business Career Center has available to help you through your exploration process.
How can I stand out from the crowd? What does it take to be a competitive candidate?
To become a competitive candidate who employers want to hire, you need to actively engage in preparing for your career. You should have a resume that has been reviewed, conducted interview prep, know how to present yourself, and understand job search strategies. We can help you engage.
Resume

Resume Guide

Use this as a tool to create and enhance your resume.

Resume Workshop

Business students can register for these workshops where we will review how to build a strong and competitive resume. Whether you are a student who has never created one or if you'd like to enhance your resume, sign up for our session.

Schedule an Appointment with a Career Coach

Our team of experienced career coaches are here to help you learn the skills that you need to find the right business career. We help you translate your classroom experiences to the workplace.

Cover Letters

Attend a "Writing Effective Cover Letters" workshop. This workshop will help you craft high-impact cover letters which will grab employers' attention and increase your chances of landing an interview.

Elevator Pitch

"Preparing Your Pitch" Workshop

Whether you use it when meeting someone in an elevator, while networking, or meeting employers at a career fair, it's important to be prepared with a "pitch" to introduce yourself. In this group advising session you will learn about different types of pitches, how to create an effective pitch, and have the opportunity to practice your pitch.

Intern Ready: Pitch Out

If you would like to practice your Elevator Pitch or currently working on your Intern Ready Badge these 15-minute time slots allow you to deliver your Elevator Pitch and receive feedback from a career coach.

Interviewing

Mastering Your Virtual Interviews

Learn how to prepare for virtual interviews as well as strategies for demonstrating your fit for the job. Join us for this opportunity to learn and practice your virtual interviewing skills!

Mock Interviews

During Mock Interviews, professionals from the Chicago Business Community conduct practice interviews and provide detailed feedback. For tips on interviewing, please download our Interviewing Guide.

What is the Intern Ready Badge?

Students actively looking for an internship can earn the Intern Ready Badge to make an impact on employers.

The Intern Ready Badge is composed of three steps: Resume, Elevator Pitch and Mock Interview. All must be completed to earn the badge. Feedback is provided by a Business Career Center Coach through one-on-one or online appointments.

Elevator Pitch

It is important to understand how to introduce yourself at networking events, career fairs, interviews, and more. A strong elevator pitch tells others about your unique skills, experiences, and career goals.

Interview Skills

Having strong interviewing skills is essential to obtaining an internship.
How do I get an internship or full-time job?
The Business Career Center brings employers (recruiters) to campus to meet and hire our business students. Employers attend specialized and general virtual career fairs during which they are actively looking to hire students. Our career coaches can also help you maximize your internship and job search strategies. Having an internship experience is the best way to find out if your career choice is the right fit. We can help you experience.
Business Internship Program

Internships provide excellent learning experiences in which students can grow their business knowledge, professional skills, and apply classroom learning to real world settings. To receive academic credit for an internship or major-related job experience, students must work for a minimum of ten weeks for ten to forty hours per week, or a longer period as specified by the employer.

Business Internship Program

Credits earned by enrolling in BA 289 do not count towards the 120 hours required for an undergraduate degree. The credits can be used for:

CPA 150-hour requirement
60-hour residence credit requirement for transfer students

The course is a satisfactory/unsatisfactory (S/U) graded course and will not affect a student's GPA. BA 289 does not meet as a class. The course consists of the student's work at the internship site, along with a final reflection paper that will be posted and submitted on Blackboard.

To enroll in and successfully complete requirements for BA 289:

Requirements

Step Two

Register for BA 289 for 0, 1, 2 or 3 credit hours. Students may choose the number of credit hours according to their needs.

Step Three

Write and submit the required reflection essay to Blackboard. This assignment must be successfully submitted in order to receive a (S) satisfactory grade.

Handshake

A university job site containing internship, entry-level and experienced hire positions. Create your student profile and upload a current resume. Register for relevant workshops.

Internship Prep Workshop

Learn about the "hidden job market," strategies and resources you can use for a successful internship or job search.

Career Fairs

Preparing for Virtual Career Fairs

Now is the time to get ready for the specialized virtual career fairs that are taking place throughout the semester. This workshop will cover the logistics of virtual career fairs, help you prepare your elevator pitch, and guide you through the 7 steps for career fair success."

Career Fairs

Attend Business Career Center Career Fairs to meet with recruiters and hiring managers recruiting on-campus for internship/job opportunities. We strongly encourage students to meet with their career coach prior to attending. Please note, attire is business professional.

On-Campus Interviews

Submit resumes via Handshake to be considered for interviews. Interviews take place in Douglass Hall. It is mandatory that you arrive 10 minutes early to check-in with the Business Career Center in DH 110. Bring hard copies of your resume.
UIC Library Career Resources General Information

The UIC Library has additional resources to help you learn more about career exploration, interviewing, and resume writing. They also have an abundance of databases to help with researching various companies and industries.

LinkedIn

LinkedIn Learning

The University of Illinois has contracted with LinkedIn to provide members of the University of Illinois with access to over 1,200 online courses provided by LinkedIn Learning. Access is available today to all students, faculty and staff and titles are broken down into manageable segments to accommodate busy schedules. These video based tutorials are taught by industry experts and available 24/7 for convenient, self-paced learning.

Linkedin Profile Checklist

LinkedIn is a great website to build your professional network, conduct career research, and apply for internship/job opportunities. This checklist will help your profile stand out to employers.

Vault

A database of employers, internships, and jobs. Students can access the full site using their UIC email and password.
Wednesday, 1:00 pm–4:00 pm
Illinois Rooms, Student Center East
Wednesday, 1:00 pm–4:00 pm
Illinois Rooms, Student Center East
The Business Career Center hosts a variety of job and internship fairs, welcoming top employers from Chicago and beyond seeking full-time hires and interns from UIC Business. Discover exciting opportunities and register for our career fairs and events on UICcareers.com. UIC Business students can double their opportunities to connect with employers by using Handshake to register for other career fairs and events at UIC.
I have never met with a Career Coach in the past and I am not sure how the BCC can support me. Where should I begin?

Attend one of our "Getting Started with the Business Career Center" presentations. We will provide you with an overview of our resources and services.

Are you only accepting virtual appointments?

We are offering in-person and virtual appointments.

Are cover letters important? How can I learn more about cover letters?

Yes, cover letters are particularly important as they help provide employers with additional information about your skillset, background and interest in their company. Sign up for one of our Writing Effective Cover Letter workshops.

I need help with finding an internship. How can I find an internship? Where should I apply?

Attend one of our Internship and Job Search Strategies workshops. Learn more about the different strategies to find an internship. You can find and apply for internships on UICcareers.com, external sites like Linkedin, Glassdoor, Indeed, and even on an employer's website. You should also schedule an appointment with a Career Coach

I need a job. Can you help me?

If you are looking for a part-time or on-campus position, then please reach out to the Office of Student Employment. If you are looking for a full-time job, then please refer to the above information about our Internship/Job Search Strategies Workshop, Career Fairs, and Information Sessions.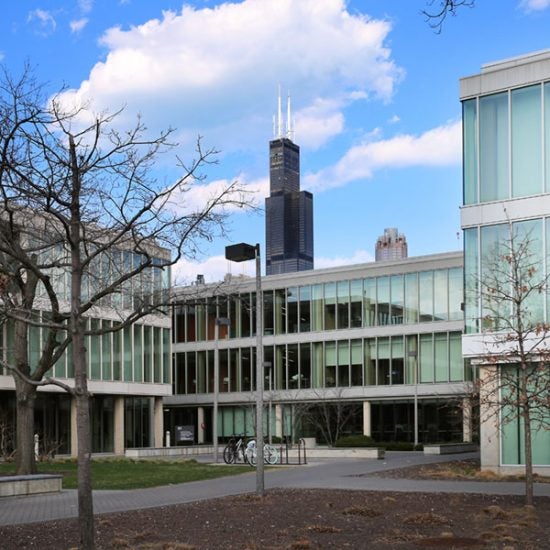 Hours of Operation: Monday – Friday, 9 a.m. – 5 p.m.
705 S. Morgan St.,
Douglass Hall, Suite 110,
Chicago,
Illinois
60607