Current Undergrad Students
Advising
You can schedule your advising appointment online by going to your my.uic.edu portal, clicking on the "Advising" tab, and then on the iAdvise button. The iAdvise online scheduling tool has the most up to date availability for all advisers.
Business Learning Center
The UIC Business Learning Center is focused on providing what other tutoring ventures haven't: A unique on-campus location dedicated to the educational and professional well-being of students from the UIC Business. Here, business students from different backgrounds can convene and share ideas, receive tutoring for their respective majors, congregate for student organization functions and attend career-related events. Our tutors on staff are here to make sure that your needs are fulfilled to the highest standard along with being able to provide answers to some of your professional goals and needs.

We are located in ETMSW (Education Theater Music and Social Work Building) across from the Behavioral Science Building in room L270 (in the basement). Our tutoring services start on the third week of school for any semester.

In order to determine the online platform that best meets your tutoring needs, please contact each tutor directly.

| | | Mondays | Tuesdays | Wednesdays | Thursdays |
| --- | --- | --- | --- | --- | --- |
| Christopher Campagna (ccampa3@uic.edu) | ACTG 210, 211, 315, 326 | Noon - 3 p.m. | | Noon - 2 p.m. | 10 a.m. - 2 p.m. |
| | IDS 270 | Noon - 3 p.m. | | Noon - 2 p.m. | 10 a.m. - 2 p.m. |
| Madhavan Kodicherla (mkodic2@uic.edu) | FIN 301, 302, 310 | 8 a.m. - Noon | | | 9 a.m. - Noon |
| Nikki Patel (npate336@uic.edu) | ACTG 211 | 11 a.m. - 1 p.m. | 11 a.m. - 1 p.m. | Noon - 3 p.m. | |
| | FIN 301, 302 | 11 a.m. - 1 p.m. | 11 a.m. - 1 p.m. | Noon - 3 p.m. | |
| | IDS 200, 201, 270, 371 | 11 a.m. - 1 p.m. | 11 a.m. - 1 p.m. | Noon - 3 p.m. | |
| | | | | 1 - 3 p.m. | |
| Mai-Anh Tran (mkodic2@uic.edu) | IDS 200, 270, 355 | 9 a.m. - Noon | | 9 a.m. - Noon | 11 a.m. - Noon |
Academic Petitions
You will receive an email confirmation upon submitting a petition. Please save this email as a record of your submission.
Student Responsibilities
Students are responsible for meeting university and college policies, including university deadlines. Students may consult with a UIC Business academic adviser if they have questions regarding any academic policies, requirements, or procedures. All UIC and UIC Business academic policy information can also be found in the Undergraduate Catalog. Students are encouraged to regularly check their UIC email for updates and announcements. Additionally, regular review of your degree audit is recommended.
Petition Requests
Petition requests for an exception to a College policy or requirement are evaluated on a case-by-case basis by the Office of Student Academic Affairs. Students are expected to have knowledge of and follow the rules and requirements as stated in the UIC Undergraduate Catalog. It is the expectation of the College the students follow university deadlines. It is recommended that students who experience extenuating circumstances that prevent them from meeting a registration revision deadline petition for an exception to a deadline.
Petitions
Petition
Description
Deadline
Double Major Petition
Used for approval of a double major in UIC Business. GPAs (UIC, and cumulative) must be a 3.25 or higher; there are no exceptions.
Double majors should be declared by the end of your sophomore year. Students must earn 60 credit hours before applying for the double major.
Late Drop Petition
Used to drop a course after the add/drop period ends, resulting in a "W" grade. This petition opens when the add/drop period ends and closes on the deadline outlined in the next column. Students are allowed up to 4 late drops during their undergraduate career at UIC.

Please refer to the UIC Catalog
for further details on the late drop policy.
Fall/Spring Semesters: the end of the 10th week of instruction.

Summer Semester (4 week session): Wednesday of the third week of instruction

Summer Semester (8 week session): the end of the 5th week of instruction
Transfer Course Petition
Used to receive permission to take a course outside of UIC and verify course equivalencies and residency requirements. Course equivalencies can be found at Transferology.
Before enrolling in the course to ensure the class will transfer in to UIC.
Transfer Credit Petition [Please note that 300 or 400 level accounting courses will be accepted only from AACSB accounting accredited universities.]
Used to have an adviser further evaluate transfer credits not applied towards your degree. Credits must appear on your DARS in the "Credit by Petition" section, and you must upload a syllabus and/or a course description for review. As of Spring 2018, each academic college at UIC reviews transfer courses that are housed in their respective colleges. If you are petitioning a course outside of UIC Business, response time may be delayed.
N/A
Credit/No Credit Petition
Used to apply to take a class Credit/No Credit. Please refer to the UIC Catalog for a list of classes that are not eligible. This petition opens on the first day of class each semester and closes on the deadline outlined in the next column.

If you are approved to take a class Credit/No Credit, you cannot rescind your request at any time. Also, courses counting as part of a minor may not be taken as credit/no credit.
Fall/Spring Semesters: 10th day of class

Summer Semester (4 week session): 3rd day of class

Summer Semester (8 week session): 5th day of class
Course Overload Petition
Used to receive permission to take more than 18 hours in a semester and 12 in the summer. Academic history must demonstrate you are capable of handling a heavy course load. A GPA of 3.0 or above is required.
Opens the first day of registration for the following term and closes the first day of instruction.
General Petition
Used for all miscellaneous requests, or as directed by your academic adviser. This petition is not for waitlists or registration errors.
N/A
GPA Recalculation/Grade Exclusion
Used to exclude a retaken course from your GPA. There is no petition to be submitted. Students must meet with an adviser to discuss utilizing this option.

Please refer to the UIC Catalog for further details on the course repeat and GPA recalculation policies.
N/A
Term Withdrawal
Used to drop all registered coursework for the current term. Grades of W that will be received do not count toward the limit of Late Drops allowed.

Please see refund schedule and read more about this policy.
Fall and Spring Semester: End of 15th week (part of Term 1 - 16 week courses);
End of 7th week (part of Term A or B - 8 week courses only)

Summer Semester: By last date of instruction (day before final exams begin).
UIC Dual Degree Applicants
For students who are not currently seeking a UIC Business degree, but wish to add a UIC Business degree alongside their current other degree. Minimum Requirements for Dual Degrees Admission: Students must complete at least one semester of coursework at UIC. Students must be in good academic standing with a cumulative grade point average (GPA) of at least 3.50 (A=4.00).
N/A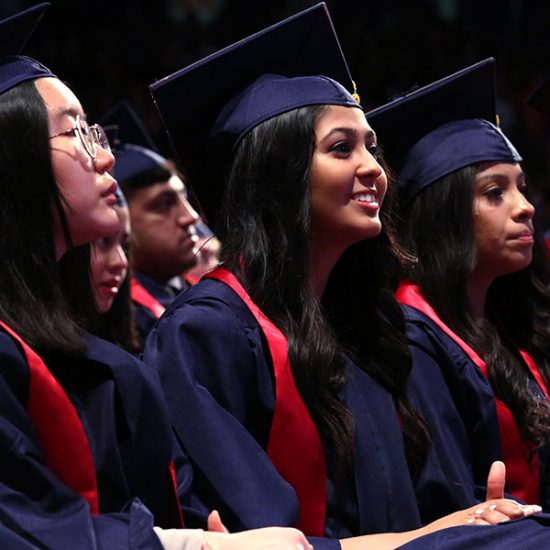 Scholarships
The generosity of alumni, companies and friends is an important part of a UIC Business student's education. UIC Business offers one application for all scholarships, so students need not apply to each scholarship individually. Students are selected based on the criteria listed under the scholarship details. The 2019 scholarship application deadline is December 13, 2019. Please visit UIC SnAP to apply for scholarships.
Accounting: Search for "College of Business Administration Accounting Scholarship Application"
General Scholarship: Search for "College of Business Administration General Scholarship Application"
For additional information regarding please College and Campus Honors, Department Distinction, University Honors, and Dean's List please see the Undergraduate Catalog.
UIC SnAP
Study Abroad
It is never too early to start planning. Meet with your college adviser to review your four-year plan to see when study abroad might fit best into your curriculum. Studying abroad will not delay graduation. You are physically somewhere else, but because of our course approval process, you can remain on track for graduation. All credit earned abroad is UIC resident credit.
Students must complete a First Step Advising Session before meeting with a Study Abroad Adviser and completing their applications. Formal presentation is 15 minutes, followed by Q&A with a Study Abroad Adviser. You can find more information on studying abroad and managing its costs, including local and program specific scholarships, at UIC Study Abroad.
In Their Own Words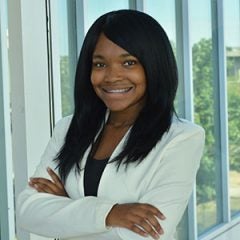 I decided to study abroad because I want to experience an entirely different culture, enhance my cross-cultural communication skills, and refine my Spanish speaking and writing skills. Studying abroad will allow me to broaden my educational and career goals on a global scale and return to UIC to stride into my senior year.

UIC Business Scholar Alleia James says "Hola" to Spain this Summer
Professional Development
The iLEAD Professional Development Program (PDP) curriculum is required of all UIC Business students beginning their first year on campus. Transfer students also have a course specifically designed just for them. The required curriculum is enriched with opportunities that include mock interview practice, seminars, feedback reports and case competitions.
Using improvisational theatre techniques, UIC Business instructors engage students in a variety of experiential learning activities that train students to use their face, body, voice, and emotions to respond spontaneously to situations as they arise. Improvisation teaches poise, focus, and the ability to respond to the unexpected—critical management capabilities. Students practice elevator pitches, interviewing techniques and presentation skills, and learn how to work a room in networking events. Community service projects develop problem-solving and team-building skills while allowing students to strengthen their leadership abilities. Feedback reports, guest speaker events, and targeted workshops provide additional enrichment opportunities.
Required Courses
First Year: Introduction to Professional Development
Second Year: Business Professional Development II
Third Year: Civic Engagement
Transfer Students: Professional Presence
Graduate Students: Improvisation and Leadership
Enrichment and Research
Feedback reports tracking student progress
Business boot camps
Case competitions
Faculty and Executive seminars
Mock Interview practice with recruiters
Internships focused on developing leadership skills
Service Learning Requirement
Service learning allows students to acquire knowledge outside of the classroom as well as apply their classroom knowledge to local agencies that benefit our community. It is a mutually beneficial experience for students and service providers.
What is service learning?

Service learning is an educational approach that combines learning objectives with community service in order to provide a pragmatic, progressive learning experience while meeting societal needs. Giving back to one's community is an essential part of being a valued member of society.

Why do UIC Business students participate in service learning?

Service learning allows students to acquire knowledge outside of the classroom as well as apply their classroom knowledge to local agencies that benefit our community. It is a mutually beneficial experience for students and service providers.

What skills are developed through service learning?

In addition to personal enrichment and making a positive impact in their community, students can acquire and develop valuable skills that increase their marketability to potential employers. These skills include:

Interpersonal communication
Problem-solving and critical thinking
Teamwork
Increased civic awareness and social responsibility
Leadership abilities
Working with diverse populations

How many service learning hours does UIC Business require?

For students who started studies at UIC in fall 2017 and after, only:
Students should have completed a minimum of ten (10) hours of service learning in the 2018 – 2019 academic year. As a reminder students complete a minimum of ten (10) hours of service learning each calendar year, totaling (40) forty hours of service learning over a four-year period. The number of hours for transfer students is (20) twenty hours over a two-year period.

Please work with your academic adviser or career adviser to determine the right service learning experience. Service may be done as part of a group—such as organizing a fundraiser—or individually such as tutoring students. If you currently volunteer for a non-profit, community group, or at a place of worship/church, you can submit those volunteer service hours for credit.

How do students submit service learning hours for credit?

All service can be reported to the college through the UIC Service Opportunities portal within the semester that the service learning is completed.

Students can complete the service requirement during fall, spring, or summer semester. Additional service hours completed will not carry-over into the next academic year.

How is service learning tracked?

Complete one UIC Business Service Completion Form for each service experience. Do not use the form to report multiple service activities. We will track students' service hours and notify you of any shortages for the 2019 – 2020 academic year. If you failed to complete your service hours last year, you will be able to make up those hours this academic year. Please note that you will need to include the name and email address of the supervisor of your service event on the form.

How is service learning approved?

At the end of each semester students will receive an email approval for their service learning hours. Students deficient in required service learning hours will also be notified and advised to submit service hours as soon as possible.

What service learning opportunities are recommended for UIC Business students?

BA 320 Civic Engagement (1 hour) Each semester, the class will be themed on a city-wide issue (homelessness, hunger, education, etc.). We will partner with a local non-profit, that addresses the chosen theme, to provide a direct service opportunity and guest lecturers for the class.
Guaranteed Admissions
UIC Business offers admissions pathways to five graduate programs that put qualified UIC students on the fast track to admission through the waiver of the GRE/GMAT requirement.
Undergrad Student Organizations
At UIC Business, student organizations play a vital role in supporting and enhancing every aspect of the student experience that appeal to diverse interests and issues. From celebrating cultural diversity to offering professional guidance and support, student organizations at UIC Business aim to build a community. They also function as an exchange for both past experiences and new ideas, supplementing the collaborative academic environment. The assortment of academic, professional and industry-specific organizations is open to all students
To find out more about all UIC student organizations, please visit UIC Connection.
Undergrad Student Organizations