Current Grad Students
Rosio Diaz
Acacemic Advisor (MSBA, MSMIS)
Joey Maman
Academic Advisor (MSA, MSF, MSM, MSSCOM)
Scott Schneider
Academic Advisor (MBA, PhD)
Tutoring for the fall semester is now available. Please contact each tutor directly to schedule an appointment.

| | |
| --- | --- |
| ACTG 500 | Kush Jayesh Mashru |
The Graduate College petition process allows students to formally state their cases when requesting exceptions to Graduate College policies and procedures. Below are some of the most commonly requested petitions available for download. Students are encouraged to speak with their academic advisers for more details regarding the petition process.
Petition
Description
Change of Graduate Programs
Change of MBA Program
For students in the MBA requesting a change of program from the online MBA to the campus MBA or from the campus MBA to the online MBA.
Credit Hour Overload Agreement
Submit this form if planning to take more than 20 credit hours during a semester.
General Petition
Use this form to request anything that is NOT part of the pre-approved policies, curriculum, etc. This may include late drop/late add, waive one or more prerequisite courses (all programs except MBA), replace a requirement for a concentration (MBA only), or take a course not automatically approved for degree & apply it toward degree (within or outside of UIC Business).

Independent Study Petition
Add an Independent Study course as part of their degree curriculum.
Late Registration Petition
Priority and Open registration begins approximately two months before the start of the term and continues through the official 10th day (5th in Summer) of the term. Any registration activity after that date is considered late.
Leave of Absence Petition
Any student who plans to take more than one semester off (doesn't include summer).

This form is for MBA students only. Specialized Masters (all non-MBA) must pick up a carbon-copy form from their adviser.
Self-Directed Concentration Petition
This form is for MBA students only. Students wishing to pursue a Self-Directed concentration option must work with an academic adviser and have their chosen plan of study approved.
Transfer Credit Petition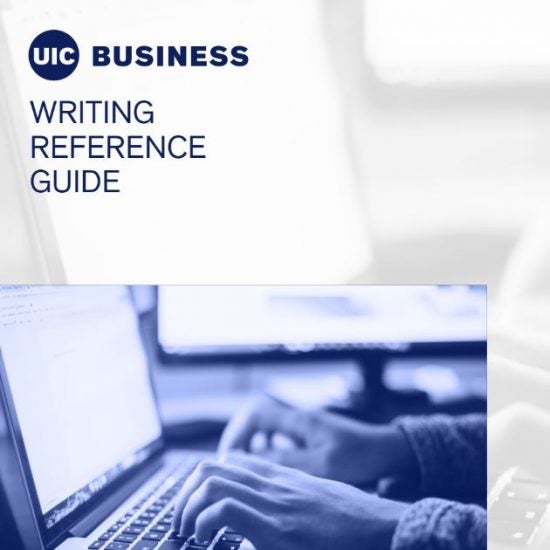 The UIC Business Writing Reference Guide provides easy-to-follow instructions for incorporating commonly used business terms, numbers and concepts into your work. This manual is designed to enhance your skills as an effective writer. Review often, as new content will be added periodically.
Writing Guide
Joint Degree Information
UIC Business offers current graduate business students the opportunity to enroll in joint degree programs to develop their expertise in multiple specialized areas. The following joint degree programs are offered:
For more information, speak to your academic adviser.
Additionally, UIC Business has partnerships with the College of Medicine, College of Pharmacy and School of Public Health through which students can complete an MBA. Interested MD, PharmD and MPH students should speak to their academic adviser in their home college or contact gradbusiness@uic.edu as instructions vary by program.
Graduate Certificate
A Graduate Certificate in Supply Chain and Operations Management is available consisting of 16 credit hours. Coursework focuses on such topics as production planning, inventory control, technology, warehouse management, quality control, supplier selection, procurement and managing supplier relationships.  Courses will take a case-oriented and problem solving approach imparting marketable skills in operations and supply chain management. Learn more about this program.
Changing or Adding a Program
UIC graduate students who wish to apply to a joint degree or certificate program, or to change their graduate program, must submit an Add/Change Application to UIC Business for admission consideration. There is no application fee. Upon admission, students will be notified to complete a Change of Graduate Program Form with their academic advisers in both programs. Currently enrolled graduate students outside of UIC Business wishing to add a joint degree should first consult with their home college academic adviser. UIC Business does not allow students to add a second degree outside of the approved joint degrees and partnerships noted. For questions, please contact gradbusiness@uic.edu.
At UIC Business Liautaud Graduate School, student organizations play a vital role in supporting and enhancing every aspect of the UIC Business experience that appeal to diverse interests and issues. From celebrating cultural diversity to offering professional guidance and support, the student organizations are created, run and shaped by graduate students. They also function as an exchange for both past experiences and new ideas, supplementing the collaborative academic environment. The assortment of academic, professional and industry-specific organizations is open to all students.