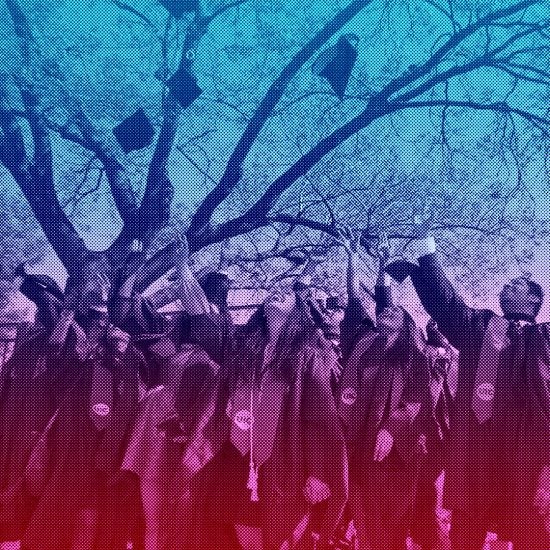 UIC Business Commencement Update
UIC Business is proud of all of our graduates and their accomplishments, and we invite all spring 2020 graduates to celebrate with us online on May 16. UIC will host virtual ceremonies for individual colleges via Marching Order that can be viewed online here. The online platform allows graduates to view speeches from administrators, keynotes and to be individually recognized for your accomplishments.
Graduates, please watch for an e-mail inviting you to create your personalized slide through MarchingOrder. [If you would like your slide to include a reading of your name, you will need to register  no later than April 23.] You can still register for a personalized silent slide until May 3.
Students who graduated in fall 2019 or will graduate in summer 2020 and requested to walk in the spring 2020 ceremony also have the opportunity to participate in the May 16 virtual ceremony and should contact Angela Prazza-Winters for approval and any questions.
We will provide information regarding the in-person ceremonies as it becomes available.
Virtual Graduation Ceremony
UIC Business Commencement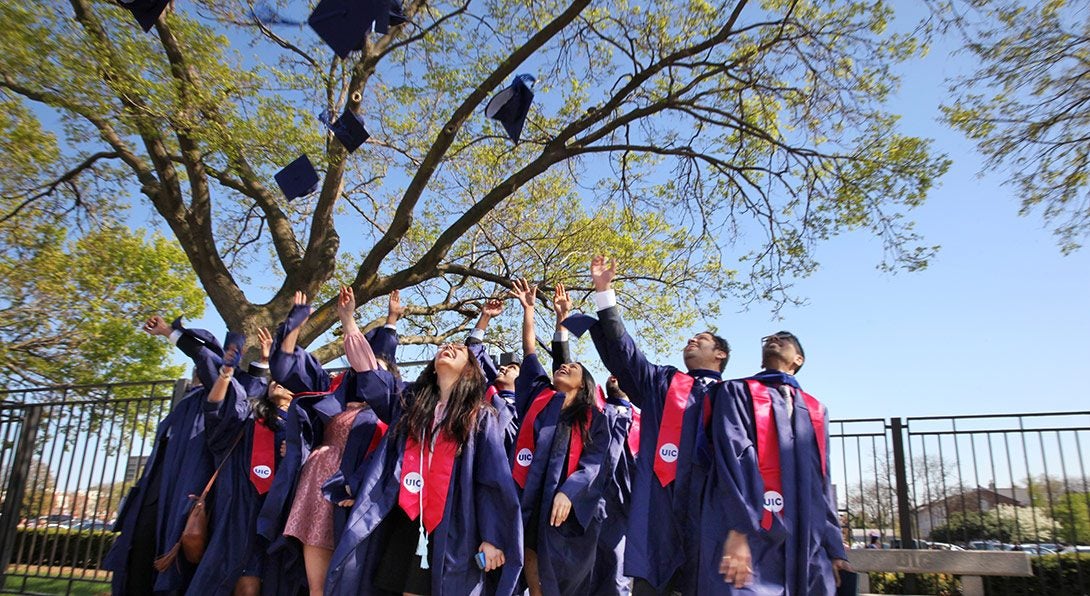 Commencement is a time to honor and celebrate your hard work and academic achievements. Congratulations, UIC Business graduates!
To be eligible to participate in the Commencement ceremony you must first apply to graduate via Student Self-Service during the registration period.  Be sure to verify with your academic adviser that your degree requirements will be met to ensure you are eligible to participate in the commencement ceremony.
A student with outstanding degree requirements is ineligible to participate until all requirements have been satisfied. For questions about degree progress, please make an appointment with your academic adviser.
If you complete your degree requirements in summer 2019 or fall 2019 you will be able to participate in the Fall 2019 UIC Commencement Ceremonies for undergraduate and graduate students. Information about these ceremonies is available on the campus commencement website. Only spring 2020 graduates are invited to attend the spring ceremony.
UIC Business Commencement Events
Pre-Commencement Ceremony
What is the difference between Commencement and Graduation?

Commencement

Commencement is a ceremony students may participate in for the purpose of celebrating the completion of an academic degree program. Commencement is held annually in May and December for students who graduated during the preceding term.

Graduation

Graduation occurs when a student has completed all of his or her requirements and is awarded a degree. Graduation can occur during any semester. Attendance at Commencement is not required for graduation.

More information can be found on the Commencement homepage.

What does "conferral of degree" mean?

Conferral is the actual date a diploma is awarded. This is usually after the date of the commencement ceremony.

Intent to Graduate

How do I submit my Intent to Graduate?

First, fill out and submit a form through Banner. Next, the courses will be audited to confirm that the student is eligible to graduate. The student will receive an email from an academic advisor between weeks 4 and 6 of the semester letting them know whether or not they are on track for graduation that semester given their current academic situation. Finally, the student will receive an email notifying them to register for the ceremony by UIC.

Intent to Graduate vs. Commencement Registration

Please note that the Intent to Graduate form does not automatically register students to attend commencement. Students submit their Intent to Graduate once they have completed all required courses for their program. Once all requirements are met, this is referred to as the degree conferral. The commencement ceremony is a celebration of conferral.

What do I need to do to participate in Commencement?

After submitting an Intent to Graduate students must also RSVP for the Commencement ceremony in order to participate. Registration information and details will be sent to graduating students directly. Eligible students will need to register on the official commencement registration site to reserve a seat. Students who do not register not be accommodated.  Further instructions for the day of the ceremony will be sent via email.

Cap and Gown Information

The UIC Bookstore is working with Jostens to issue refunds for students who have purchased their cap and gowns. Unfortunately, it is a manual process, and students' refunds may still be in the queue. Students can call the Jostens' Consumer Call Center (800) 854-7464 for additional updates.

If a student would like to place a new cap and gown order through the bookstore, please go here. Students who have more questions about purchasing the cap and gown, please contact the bookstore directly.

How do I order a Cap and Gown (a.k.a Regalia)?

Student are encouraged to order regalia order through the Josten website that will be posted on the UIC Commencement page. If a student misses the pre-order deadline, there will be an option to purchase regalia at the bookstore starting about a week prior to the ceremony. Please be sure to order the correct regalia according to degree.

What color will my tassel be?

The Bachelor of Science tassel will be gold. The Master of Science will be blue.

Is there a fee to participate in Commencement?

There is not a fee to participate in the Commencement ceremony. However, all graduates are required to purchase their own cap and gown. Only those with correct academic attire are permitted to participate.

May Ceremony

Tickets ARE NOT required for this ceremony. Seating will be first come first served, so please ensure that your guests arrive early.

December Ceremony

Tickets ARE required for this ceremony. Tickets are not guaranteed for graduates who miss the registration deadline.

Diploma Information

Where can I order announcements/diploma frames?

Announcements and diploma frames may be purchased from Jostens.

Is Commencement required to receive my diploma?

No. Diplomas will be mailed 6 – 8 weeks after graduation is certified. Only diploma covers, not diplomas, are distributed at Commencement. UIC Business does not supply diploma covers for students who do not attend commencement. Diplomas will be mailed after the conferral date, which will be after the commencement ceremony. Please contact the registrar's office to confirm the name and mailing address for the diploma.

Who should I contact with diploma questions?

Graduates can create and/or update a Diploma Address on the Student Self Service system. All changes must be made prior to the last day of the term that the student is graduating in.

Contact the Office of the Registrar at (312) 996-4381 with any additional questions.

Latin Honors

How do I qualify for Latin Honors?

Latin Honors are awarded to graduating undergraduate students based on UIC grade point average. Students eligible for Latin Honors will receive an email notification from the Office of the Vice Provost for Undergraduate Affairs. Please see the Office of the Registrar for more information on how to qualify. Please note that because spring grades will not yet be posted at the time of the Commencement ceremony, the determination of Latin Honors for potential Spring graduates will be based on grades reported through the end of the term prior to graduation. UIC will reserve the right to make permanent adjustments to the list of students receiving Latin Honors based on final UIC grade point average information.

Where do I pick up my honor cord?

Information will be available closer to the event.

What color are the honor cords?

Summa cum laude honorees will be distinguished with gold cords, magna cum laude honorees will be distinguished with silver cords, and cum laude honorees will be distinguished with bronze cords.

International Letter for Commencement (Parents)

Parents shouldn't need a letter from the school, per se, unless the embassy is specifically advising as such.  OIS can provide a very general letter (about 2 sentences) attesting to a student's F or J status.  The I-20 itself, though, is what they would use for more detailed information regarding status.  Alternatively, they can also request enrollment verification letters from the Registrar's Office for more info re: academic progress; as mentioned above, though, they should check first with the consulate where their parents plan to apply to be sure.

Students will get an RSVP via email which can also be used to show date and time of the ceremony.

Grad Fest

Grad Fest is a one-stop event for graduates to pick up their academic regalia and other commencement related items. Graduates can also learn more about resources and services for alumni.

Wednesday, April 29
10 a.m. – 2 p.m.
Illinois Rooms, Student Center East
Day-Of Commencement
Is there a rehearsal?

No. Please follow all of the instructions on the official commencement registration website for information on what to expect on the day of the ceremony. Students will receive this link in their email for registration.

What is some of my family and friends cannot make the ceremony?

There will be a livestream option for the ceremony and Archive after the date of the ceremony.

What side of my cap does the tassel go on?

Tassels are to be worn to the front-right of the cap prior to the ceremony. When degrees are conferred, graduates will be instructed to switch them to the left-side.

I am a doctoral student. What side will my advise stand on during the processional?

The adviser stands to the right of the student.

Who do I contact if I or my guests require special accommodations?

Contact the Credit Union 1 Arena at (312) 413-5700.

Graduation Portraits

Students will have a formal graduation portrait taken at the ceremony once the diploma cover is in hand. Informal photos will be available at Grad Fest where you can pick up your pre-ordered cap and gown.

Policies

The Credit Union 1 Arena has limited and prohibited certain items from being brought into the venue. Please refer to the venue's FAQ for full details. Metal detectors will be in use at the Arena. For questions about these policies, please contact the Credit Union 1 Arena at (312) 413-5700 or email questions@uicpavilion.com.