Intercollege Transfer
Admission Requirements
To Intercollege Transfer into UIC Business students must have:
A Cumulative and UIC GPA of 2.5 or higher with a 'C' or better in one of our required math courses*.

OR
A Cumulative and UIC GPA of 2.0 or higher with a 'C' or better in one of our required math courses* and a 2.5 GPA for the previous full-time fall or spring semester.​​
*Math course options: MATH 125, MATH 160, MATH 165, MATH 180, MATH 181
The BBA degrees have additional admission requirements, including completion of 60 hours of college credit, including ENGL 160, ENGL 161, ECON 120, ECON 121.
Applications for Fall 2023 admission must be submitted by August 18, 2023. Applications for Spring 2024 admission must be submitted by January 5, 2024.
Applicants who meet the admission requirements will be immediately accepted for the following semester. Applicants currently fulfilling the requirements will be considered "pending," and a decision will be made after final grades are posted. If an applicant will not meet the requirements by the end of the semester, the application will be denied, and the student will need to reapply the following term.
Online and On-Campus Bachelor of Business Administration (BBA) Degrees:
These are degree-completion programs intended for students who have completed an associate degree.
The Online BBA program only admits students for the fall semester. Space is limited. For information about the Online BBA, please email Jamie Galeher at jgaleher@uic.edu.
Before Applying
Run a hypothetical degree audit for your major of interest to view the degree requirements and see how your completed/in-progress courses apply. You can run a hypothetical audit using the following navigation: my.uic.edu > uAchieve Degree Audit > Select a Different Program
Connect with a Career Advisor to ensure your major of interest aligns with your professional goals.
Consider declaring a Business Minor. If you are not sure whether you want to change your major, or if you do not meet the Math admission requirement, you can apply for a Business Minor. If approved, you'll have access to the courses required of the Minor. This will help to confirm your interest and make progress toward a degree in Business prior to changing your major.
There are no Information Sessions available. Please email Ally Schad with any questions.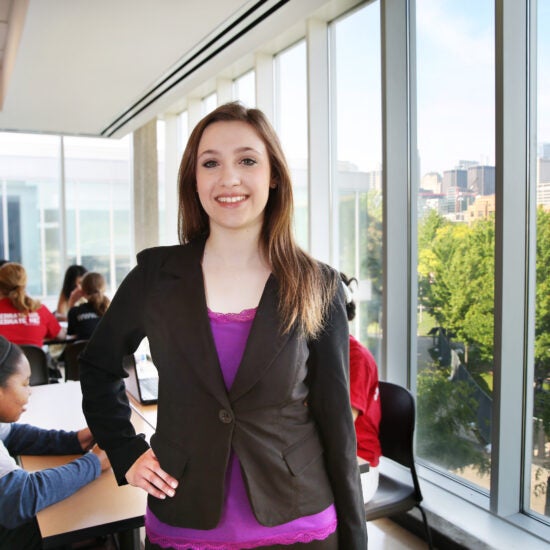 Questions about Intercollege Transfer Application? Heading link
Non-Business majors contact Ally Schad
601 S. Morgan St.,
University Hall, 11th Floor,
075,
Chicago,
Illinois
60607